Spanish Proficiency Test Launched by the King of Spain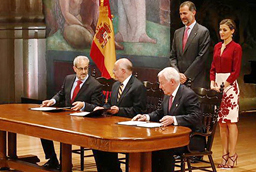 A joint project between the University of Salamanca, the Autonomous University of Mexico and Spain's Cervantes Institute has created a new certificate of Spanish proficiency that will bring together the various forms of Spanish spoken across the world
With an estimated 559 million Spanish speakers worldwide and around 21 million people learning Spanish as a foreign language it seems extraordinary that until now, no internationally recognised proficiency certificate existed.
King Felipe, during his speech said that we were missing a respected certificate of proficiency in Spanish as a foreign language similar to those available for the English Language.
Siele
The assessment, called Siele, will be divided into reading, listening, writing and oral expression.
"The Siele is not just an evaluation, it is also a way to promote Spanish, and by that we mean everyone's Spanish, with everyone on an equal footing," Víctor García de la Concha, the head of the Cervantes Institute was reported to have said in the newspaper El Pais.
Examination Centres Worldwide
The Siele will be launched early next academic year. There will be examination centres around the world, but for the first three years they will be particularly implemented in three countries: Brazil, where it has 120 examination centres, in the United States, where there will be 100 examination centres, and in China, with 60 examination centres.
The initial estimates provide a minimum of 300,000 candidates a year that will rise to 750,000 within five years.
Electronic examination
The examination includes four tests that correspond to the different communicative language activities: reading comprehension, listening comprehension, written expression and oral expression and interaction and interaction.Interested parties may register for the full exam or in one or more of the tests independently.
Unlike other tests that certify mastery of Spanish, in Siele both enrollment and the examination will be conducted electronically.
The rating tests reading, comprehension, and listening are automatic and immediate.
Expression tests and written interaction and oral expression and interaction will be evaluated using rating scales by accredited experts.
To manage the quality of service, a second person will observe and mark the test. To address results and appeals and to monitor the qualifications of the oral test, all audio will be recorded.
The results will be obtained within three weeks. If the candidate has carried out a full examination, they will receive a certificate, whereas if they have registered only for some of the tests, they will be provided with a progress report with gradings.
The validity of certificates will be two years.
The tests will create teams of experts with lengthy experience in developing examinations and belonging to the Instituto Cervantes, the UNAM and the University of Salamanca.
It therefore is an example of cooperation between institutions of the Hispanic world to offer a unique system of evaluation that includes all varieties of Spanish.
A great step forward towards modernisation for Spain and King Felipe.